প্রকাশ : ২৮ সেপ্টেম্বর, ২০১৬ ১১:০৬:১৯
আপডেট : ২৮ সেপ্টেম্বর, ২০১৬ ১১:৩৪:১৩
'We will name our child Saifeena'
Dhaka times Desk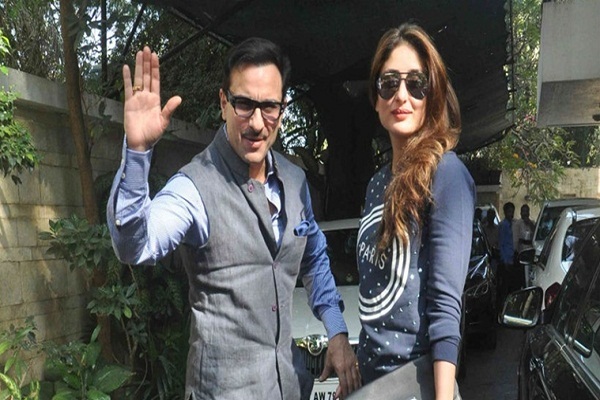 Kareena Kapoor and Saif Ali Khan are truly inspired by Shahid Kapoor and Mira Rajput as well as Aditya Chopra and Rani Mukerji. If Shahid and Mira named their daughter Misha which is an amalgam of both their names, Aditya and Rani christened their bundle of joy Adira with the same thought in mind.
So, Kareena and Saif are planning to call their baby, who will be born later this year, Saifeena! Yes, that is the same term with which media called Saif and Kareena. Revealing this on the chat show Vogue BFFs, Kareena said, "He finds it really funny. He says we'll name our child Saifeena."
We are really hoping that Kareena said it in jest because think about the kid called Saifeena! While talking about Saif's reaction to the good news, Kareena said, "He said, 'I love you more pregnant. I think you should just continuously be pregnant.'" You guys, you are giving all expecting parents absolutely brand-new relationship goals!
Saif and Kareena will soon be leaving for a babymoon in Dubai. The actress has a relaxed, romantic time-off all planned for herself. She also talked about her parenting style in an interview to Hindustan Times, "Saif and I are very normal. In fact, I think we are possibly the most normal film stars who exist. Everyone who knows us will say the same. We have friends who are not from the film fraternity. We don't go to [film] trials and parties. We are not very PR-driven. We have a private life and we are honest to the media. That's just the way we are going to live our lives. We don't have bodyguards, and we don't believe in having them either. I hope that our family will continue being in this atmosphere. I'm not going to hire 10 bodyguards just because my child will belong to a star family."
Source: The Indian EXPRESS
(Dhaka times/28 September/SUL)

উপরে