প্রকাশ : ২৯ সেপ্টেম্বর, ২০১৬ ১৯:১১:২৫
আপডেট : ২৯ সেপ্টেম্বর, ২০১৬ ১৯:১১:৪৫
Cristiano Ronaldo's plane Crashes in Barcelona
Dhaka times Desk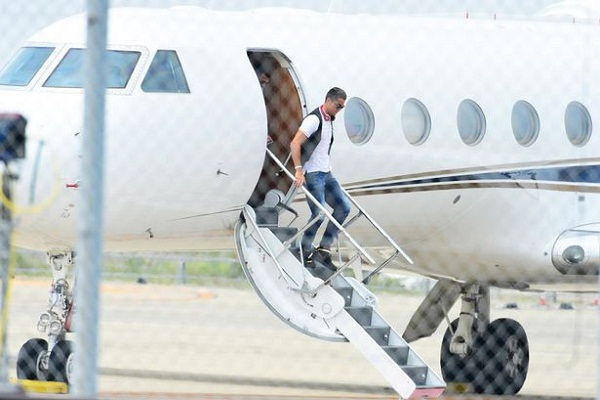 Cristiano Ronaldo will be grounded for the foreseeable future after the superstar's private jet crashed on landing at Barcelona's El Prat airport.
The Portuguese is about to get a bumper new contract from Real Madrid, and that payrise will come in handy as he prepares for a monster repair bill after the incident on Monday evening.
Eyewitnesses report that the plane's landing gear broke on impact with the runway, forcing emergency services into action.
One of the runways at El Prat was closed for a short time after the incident, in which nobody was hurt but the pilot was attended to for very minor injuries.
Ronaldo bought the Gulfstream G200 last year for some £15million, and sometimes leases his plane out for private clients.
Sources close to the Ballon d'Or favourite told MirrorFootball: "The plane is normally rented by companies and it was in use by one of them.
"Cristiano Ronaldo, his family or friends were not on the plane. The incident had no major consequences."
31-year-old Ronaldo was, in fact, with his Madrid teammates in Germany preparing for the Champions League clash against Borussia Dortmund.
Indeed, the former Man United man would finish a brilliant move to open the scoring for the defending champions but Dortmund equalised through Pierre-Emerick Aubameyang to ensure both sides took a point from a topsy-turvy game at Signal Iduna Park.
Aubameyang swapped shirts with Ronaldo, before reaching out to the Madrid star on Instagram with a picture of his son gleaming from ear to ear and holding the grass-stained No.7 shirt.
The 27-year-old wrote in the caption: "Cristiano, you've made my son happy."
The return fixture at the Santiago Bernabeu on December 7 promises to be one of the most explosive contests of the group stage.
The European giants now sit joint-top Group F on four points with Sporting Lisbon, the only threat to a predictable one-two finish, tucked in one point back on three points.
Zinedine Zidane will turn his attention back to La Liga with a tame fixture against Eibar this weekend, while Thomas Tuchel's side will be pushed to raise it once again away to Bayer Leverkusen.
Source: Daliy Mirror
(Dhaka times/29 September/SUL)

উপরে